St Angela Hall Academy


Class Of 1963
ANNOUNCEMENTS
There were two Catholic boys, Timothy Murphy and Antonio Secola, whose lives paralleled each other in amazing ways. In the same year Timothy was born in Ireland, Antonio was born in Italy.

Faithfully they attended parochial School from kindergarten through their senior year in high school. They took their vows to enter the priesthood early in college, and upon graduation, became priests.
Their careers had come to amaze the world, but it was generally acknowledged that Antonio Secola was just a wee cut above Timothy Murphy in all respects.

Their rise through the ranks of Bishop, Archbishop and finally Cardinal was swift to say the least and the Catholic world knew that when the present Pope died, it would be one of the two who would become the next Pope.
In time the Pope did die, and the College of Cardinals went to work. In less time than anyone had expected, white smoke rose from the chimney and the world waited to see whom they had chosen.

The world, Catholic, Protestant and secular, was surprised to learn that Timothy Murphy had been elected Pope!
Antonio Secola was beyond surprise. He was devastated,because even with all of Timothy's gifts, Antonio knew he was just a bit better qualified.

With gall that shocked the Cardinals, Antonio Secola asked for a private session with them in which he candidly asked: "Why Timothy?"
After a long silence, an old Cardinal took pity on the bewildered man and rose to reply.
"We knew you were the better of the two, but we just could not bear the thought of the leader of the Roman Catholic Church being called...
Oh, stop moaning. You know you're probably gonnapass it on to your Catholic and non-Catholic friends alike!
from Gloria Deyhle -- alumni of SAHA 1962
Please answer the survey by clicking on the prompt on the left side of your screen called "DATES AND LODGING".
Reunion News
We have more venues than ever before to make comments about, against, concerning, questioning, answering news on the 2018 Reunion in NYC. They are: the "What's New" page, the "Homepage", the "Message Forum", "Contact Us", the Message Center", the "Post Announcement" page, Dates & Lodging, and for Administrators (committee heads, etc.) we also have the "Reunion Planner" & "Product Manager" pages. Everyone, start thinking of ideas, a theme for the reunion, possibly something unique to do (i.e. adding to or changing the format we had at our last reunion). All comments are welcome regardless of whether or not you are planning to attend.
Some have already said. "count me in", but soon we will post a questionaire in everyone's profile. When you update your profile, a question or two will be there for you to answer. Please look for it in a week or so. The question will remain there until you have time to answer it. You will be able to contact Jacqueline or me at all times for any reason.
Barbara
Check out the new "WHAT'S NEW??" page. Just click on it.
Keeping the Website Open
Well, it seems all of you have decided for me (by your support) that I should keep the website going. This was decided after our first reunion in 2013
Thank you,those of you who have already sent $16 dollars or more. For those of you who don't know, I've asked all of you who joined to donate at least $16 per year in or around January which I keep in a SAHA PayPal account to be used for reunions. The reason for that amount (I don't use it) is that I maintain the site by paying $16 per month to Class Creator (classcreator.com) who helped me establish it and still helps 24/7 if anything goes wrong.. I'll keep you posted as to how many have donated and what specifically every cent is used for (either through personal e-mail or posted in the message forum). The details of who donated and how much will only be shared with Administrators on a monthly basis.
Barbara
Remember! You promised you would
NOT FORGET THEM!!
Happy Memorial Day
40621 people have visited our site thus far.
44.3% of our alumni have joined the website.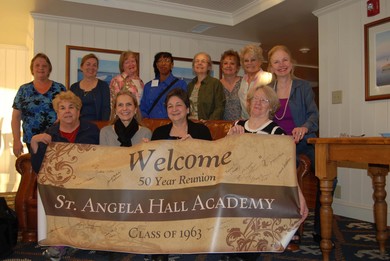 Thank you everyone for making the Reunion a happy
time for all of us. Thank you Judi for this photo.
Check out "Old Brooklyn" page & click on it on the left
side of this page!!
Welcome to the St Angela Hall Academy High Class Of 1963 web site. Add any additional home page content here.