St Angela Hall Academy

High School




Class Of 1963
ANNOUNCEMENTS
This was recorded in 1963. And I thought it appropo for the season.
P.S. It was one of Claudia's favorite songs.
The Vatican at night. WOW !!
Many of you have seen this in person.
I never have. For those of us who
never have seen it live --
AWESOME !!!
Happy Birthday
Anne, Lenore,
&
Johanna
24510 people have visited our site thus far.
44.3% of our alumni have joined the website.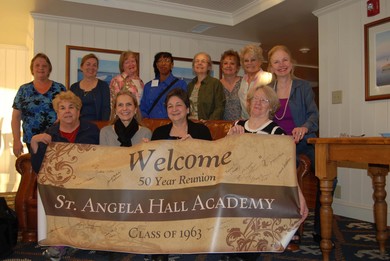 Thank you everyone for making the Reunion a happy
time for all of us. Thank you Judi for this photo.
Well, it seems all of you have decided for me (by your support) that I should keep the website going.
Thank you,those of you who have already sent $16 dollars or more. I'll keep you posted as to how many have donated and what specifically every cent is used for (either through personal e-mail or posted in the message forum).
New Item: Check out the "Message Forum" on the
left side, top yellow box of the page!!
Check out "Old Brooklyn" page & click on it on the left
side of this page!!
Welcome to the St Angela Hall Academy High Class Of 1963 web site. Add any additional home page content here.