St Angela Hall Academy

High School




Class Of 1963
ANNOUNCEMENTS
Happy Birthday
Arleen.

Check out the new "WHAT'S NEW??" page. Just click on it.
News About Reunion This Year
Well, it seems all of you have decided for me (by your support) that I should keep the website going. This was decided after our first reunion in 2013
Thank you,those of you who have already sent $16 dollars or more. For those of you who don't know, I've asked all of you who joined to donate at least $16 per year in or around January which I keep in a SAHA PayPal account to be used for reunions. The reason for that amount (I don't use it) is that I maintain the site by paying $16 per month to Class Creator (classcreator.com) who helped me establish it and still helps 24/7 if anything goes wrong.. I'll keep you posted as to how many have donated and what specifically every cent is used for (either through personal e-mail or posted in the message forum). The details of who donated and how much will only be shared with Administrators on a monthly basis.
So far we we have $122.00 available. The next most important thing is to choose the town. Jacqueline is reseaching that. I don't know if she needs help. It wouldn't hurt to ask her yourself. I will be posting a survey of what we find out to be the advantages of each of the four cities in question. After I post the survey (within a week), I will amend it occasionally as wereceive more infor as to what is good about the city in question. Ultimately it will be your decision.
The time and date and state we have decided: Tuesday September 29, Wednesday September 30, and Thursday October 1 from about 11am (check in) to about 2pm after late breakfast in Texas.
Feel free to contact Jacqueline and/or me for any reason including financial concerning the reunion or travel or lodging.
Barbara
I'd like everyone to realize this is YOUR website. We'd like to hear from more of you concerning things (good or bad) in your life. We're a small group and the purpose of this website has evolved into attempting to keep us a close knitted group even though we all live throughout the country. Please continue to contact each other, post happenings in the member forums, tell each other exciting news in your lives, just like we did in school. If you have any concerns, please contact Pat or myself.
Hopefully, 2015 will turn out to be an outstanding year for all of us. I want to personnally thank all those who donated to Pat Pane Manser when she was in the hospital and to Claudia Montelione's daughter after her mother died. And, thank you for all your prayers and good wishes to me when Jim died. They were definitely needed and did the job.
28835 people have visited our site thus far.
44.3% of our alumni have joined the website.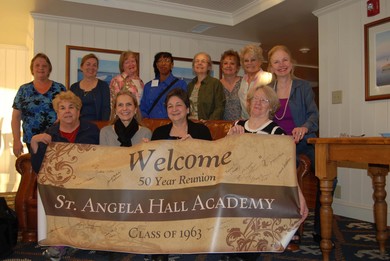 Thank you everyone for making the Reunion a happy
time for all of us. Thank you Judi for this photo.
New Item: Check out the "Message Forum" on the
left side, top yellow box of the page!!
Check out "Old Brooklyn" page & click on it on the left
side of this page!!
Welcome to the St Angela Hall Academy High Class Of 1963 web site. Add any additional home page content here.