St Angela Hall Academy


Class Of 1963
ANNOUNCEMENTS
Quick Note
Reuniuon photos are being sorted and improved (as much as I am able). Will post in a few days. Hope everyone liked their calendars. For those of you who didn't attend, we'll try to show you what you missed. For those of us who did attend, try to write a paragraph or two about some item, event, sight, or even a thought you had during the reunion. Send it to me, or Jackie Rock, or Eileen Meeres (Dennedy), to review. We'ed like to post a few.
Thank you, Barbara
https://www.facebook.com/355295764895860/videos/382747978817305/
Today is Sunday, July 8, 2018. In 71 days our Reunion will begin. We really need those of you who have not responded to post your intentions of whether or not you are planning to attend. The hotel needs to know; the restaurant needs to know; the committes that buy gifts, prizes, and product NEED to know approximately how many are attending. The deadline for sending in your registration fee ($75 per head) is August 15th. THINGS UNFORSEEN CAN ALWAYS HAPPEN. But we need your intentions.
Let's make this reunion the best one yet. THANK YOU to those who have responded.
Alright---this is June 21, 2018. In less than 90 days all who signed up will be walking into the the lobby of the Hampton Inn and Suites on Staten Island.
EMERGENCY NOTICE
I just checked this evening, anyone who has not made a reservation better do so soon...like yesterday It's a small Hampton Inn. I'm guaranteed 14 rooms at the $139 per nite price. I was notified rooms are running out. PLEASE make your reservation. Use promo or group code SAH, so no down payment is necessary, and your rate is $139 per nite for any room. Contact me, or Jackie Rock, or Eileen Dennedy after that.
Today is June 22, 2018. Our 55yr Reunion will be held in 87 days (Sept. 17, 18, 19). Here are the things you all need to know:
1.Let me (Barbara Ecker,1811 Oaklawn Dr., Prescott AZ 86305,phone: 928.899.1366, e-mail: bjecker64@gmail.com), Jackie Rock, or Eileen (Dennedy) Meeres know if you are planning to attend
2. Call the Hampton Inn & Suites at 1120 South Ave., Staten Island, N.Y. 10314 at 718.477.1600 for reservations USING THE GROUP CODE "SAH" in order to get our rate of $139 + tax per night for all rooms
3. Send your registration fee of $75 per head to me or Jaqueline (Rock).What ammenities this includes are at the end.
4. Tues. Sept.18 at 7pm we have dinner set at Lorenzo's at the Hilton next door (general menu for us will be posted at the end as well).
REGISTRATION FEE INCLUDES: verified registration card back in the mail; Monday evening "Meet and Eat" affair for everyone after check-in. Includes Deli catered colds cuts plus complimentary soft drinks, beer, wine; free breakfasts included; includes free shuttle to & from Newark airport, and-to & from SI Ferry; includes free parking; free semi-private farewell breakfast on Thursday morning; table give-aways and trinkets.
Lorenzo's special menu:
Menu to be inserted within hours
Thought I would also show some photos, remembrances, highlights of the get together for both those who attended and for who did not, and those who have since joined our website.
We spent 3 days and 2 nights at the Hampton Inn Oceanfront in Myrtle Beach
Had a Wednesday night dinner at the Chestnut Inn On March 13, which, by the way, was the date Pope Francis was chosen.
Remembrances are good-- Let's have a trememdous 55 year reunion even better than the last.
Today is March 17, 2018. Six months to the day from today , many of us will be checking in to the chosen hotel. Let's get moving and get money into the coffers.
Reunion News
We have more venues than ever before to make comments about, against, concerning, questioning, answering news on the 2018 Reunion in NYC. They are: the "What's New" page, the "Homepage", the "Message Forum", "Contact Us", the Message Center", the "Post Announcement" page, Dates & Lodging, and for Administrators (committee heads, etc.) we also have the "Reunion Planner" & "Product Manager" pages. Everyone, start thinking of ideas, a theme for the reunion, possibly something unique to do (i.e. adding to or changing the format we had at our last reunion). All comments are welcome regardless of whether or not you are planning to attend.
Some have already said. "count me in", but soon we will post a questionaire in everyone's profile. When you update your profile, a question or two will be there for you to answer. Please look for it in a week or so. The question will remain there until you have time to answer it. You will be able to contact Jacqueline or me at all times for any reason.
Barbara
We're beginning a brand new season and countdown !
Today is March 8, 2018 and in 6 months and 1 week we will be packing for our upcoming reunion. Lots of things, ideas, possible events, tours, dinners, lucnhes, exchange of information, e-mails, and letters have been written. If you need Jacqueline's or my phone number or mailing address, please log in and it will be in an announcement in the message center and, of course, in our profiles. The announcement you're reading is OPEN TO THE PUBLIC to be read.
See all of you soon. Barbara
Check out the new "WHAT'S NEW??" page. Just click on it.
Keeping the Website Open
Well, it seems all of you have decided for me (by your support) that I should keep the website going. This was decided after our first reunion in 2013
Thank you,those of you who have already sent $16 dollars or more. For those of you who don't know, I've asked all of you who joined to donate at least $16 per year in or around January which I keep in a SAHA PayPal account to be used for reunions. The reason for that amount (I don't use it) is that I maintain the site by paying $16 per month to Class Creator (classcreator.com) who helped me establish it and still helps 24/7 if anything goes wrong.. I'll keep you posted as to how many have donated and what specifically every cent is used for (either through personal e-mail or posted in the message forum). The details of who donated and how much will only be shared with Administrators on a monthly basis.
Barbara
63,358 people have visited our site thus far.
44.3% of our alumni have joined the website.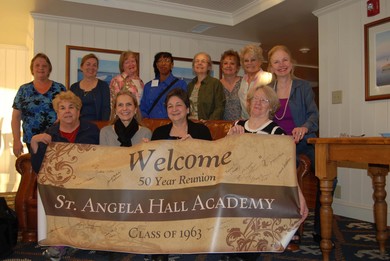 Thank you everyone for making the Reunion a happy
time for all of us. Thank you Judi for this photo.
Below is a link to Hampton Inn Oceanfront, Myrtle Beach, SC which is where Our Reunion is being held.
We have aquired special, special rates for our stay plus amenities not given out without a block of rooms. Pat has visited there personally and raves about it (it's cleanliness and impeccable grace).
Below is a link to The Chestnut Hill
Restaurant, your choice for our
Wed. nite dinner.
http://www.chestnuthilldining.com
Check out "Old Brooklyn" page & click on it on the left
side of this page!!
Hi Everyone,
Jacqueline's birthday is on June 28th. Let's all wish her a Happy Birthday!
Eileen
Welcome to the St Angela Hall Academy High Class Of 1963 web site. Add any additional home page content here.