St Angela Hall Academy


Class Of 1963
ANNOUNCEMENTS
Some one please tell me how I can pay my dues. Finally got notification that I have a new password. Thank you
Claudia OLIVA Tedesco
Claudia --
I'm posting your answer on the home page in the event others may have the same question. If you intend to use a credit card, just press the 'donate' button on the right side of this page and it will take you to the right spot. You will also be able to choose 'donate to reunion' or 'website' The website=dues.
If you are sending by personal check, make the check out one of 3 ways- to 'SAHA-1963', 'Barbara Ecker', or 'Jacqueline Rock'. Either send it to me at 1811 Oaklawn Dr., Prescott, AZ 86305, or Jackie at 2109 West Amelia St., Orlando, Fla. 32805.
Hope this helps everyone.
Barbara
Reunion News
We have more venues than ever before to make comments about, against, concerning, questioning, answering news on the 2018 Reunion in NYC. They are: the "What's New" page, the "Homepage", the "Message Forum", "Contact Us", the Message Center", the "Post Announcement" page, Dates & Lodging, and for Administrators (committee heads, etc.) we also have the "Reunion Planner" & "Product Manager" pages. Everyone, start thinking of ideas, a theme for the reunion, possibly something unique to do (i.e. adding to or changing the format we had at our last reunion). All comments are welcome regardless of whether or not you are planning to attend.
Some have already said. "count me in", but soon we will post a questionaire in everyone's profile. When you update your profile, a question or two will be there for you to answer. Please look for it in a week or so. The question will remain there until you have time to answer it. You will be able to contact Jacqueline or me at all times for any reason.
Barbara
We're beginning a brand new season and countdown !
Today is September 1 and in 2 years we will be packing for our upcoming reunion. Lots of things, ideas, possible events, tours, dinners, lucnhes, exchange of information, e-mails, and letters written.
BUT FIRST, let's turn our attention to the newly formed East coast storms threatening many of our alumni. As a group, I ask you to pray for each oter to hbe safe and secure. Please contact each other, and do whatever it takes to keep safe. Pray that as in the past we have ben able to help with successful prayers and finances if necessary. Pray for that silver lining to come to us soon...
Check out the new "WHAT'S NEW??" page. Just click on it.
Keeping the Website Open
Well, it seems all of you have decided for me (by your support) that I should keep the website going. This was decided after our first reunion in 2013
Thank you,those of you who have already sent $16 dollars or more. For those of you who don't know, I've asked all of you who joined to donate at least $16 per year in or around January which I keep in a SAHA PayPal account to be used for reunions. The reason for that amount (I don't use it) is that I maintain the site by paying $16 per month to Class Creator (classcreator.com) who helped me establish it and still helps 24/7 if anything goes wrong.. I'll keep you posted as to how many have donated and what specifically every cent is used for (either through personal e-mail or posted in the message forum). The details of who donated and how much will only be shared with Administrators on a monthly basis.
Barbara
46,267 people have visited our site thus far.
44.3% of our alumni have joined the website.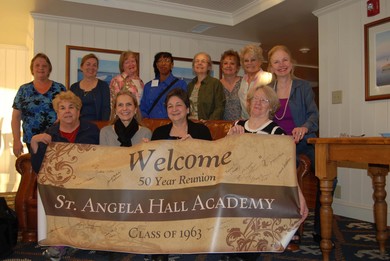 Thank you everyone for making the Reunion a happy
time for all of us. Thank you Judi for this photo.
Check out "Old Brooklyn" page & click on it on the left
side of this page!!
Welcome to the St Angela Hall Academy High Class Of 1963 web site. Add any additional home page content here.