St Angela Hall Academy

High School




Class Of 1963
ANNOUNCEMENTS
Happy Birthday
Pat
&
Nancy
Can you believe it! One week from today (March 5)
will be the one year anniversary of the beginning of
our Reunion. It just doesn't seem like a year to me.
Well, I'm going to get on the ball to see if the four
of us in the West might be able to put together a
mini reunion this summer. Of course, anyone else
who wants to join us or have their own is welcome
out here or wherever they wish to hold their get
together. Our four are: myself, Anne Iorio, Kevin
Brenen, and Lenore Infranca.
Please post if anyone else is going to put together
a small group to meet in the inbetween years.
May the prayers of the world reflect Your Will, Father.
May the prayers of America reflect Your Will, Father.
May the prayers of those in this website reflect Your Will,
Father.
Great News!
Pat just got the results of her CAT scan--
It was perfect!!
NO CANCER
Thank You, Lord.
I'd just like to take a minute to thank Joani, Nancy, and Eileen for their 2014 contribution to our website. Thank you so much.
Barbara
I'd like everyone to realize this is not MY website; it is YOUR website. We'd like to hear from more of you concerning things (good or bad) in your life. Pat is coming along nicely and she is back as co-Administrator here on OUR website. We're a small group and the purpose of this website has evolved into attempting to keep us a close knitted group even though we all live throughout the country. Please continue to contact each other, post happenings in the member forums, tell each other exciting news in your lives, just like we did in school. If you have any concerns, please contact Pat or myself.
:
Please pray for Phil Orosz, my 1st cousin. He had open
heart surgery on Wednesday. Today, Thursday, he now
has a mechanical heart in place, but he's on Life Support.
He's in Stoney Brook University Hospital on Long Island.
I know prayer will help!!
Thank you, Barbara
18422 people have visited our site thus far.
42.0% of our alumni have joined the website.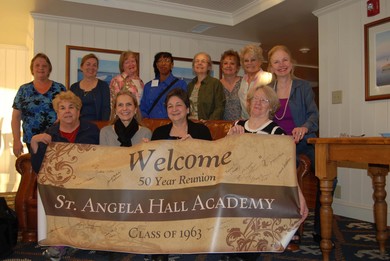 Thank you everyone for making the Reunion a happy
time for all of us. Thank you Judi for this photo.
Well, it seems all of you have decided for me (by your support) that I should keep the website going.
Thank you,those of you who have already sent $16 dollars or more. I'll keep you posted as to how many have donated and what specifically every cent is used for (either through personal e-mail or posted in the message forum).
New Item: Check out the "Message Forum" on the
left side, top yellow box of the page!!
Check out "Old Brooklyn" page & click on it on the left
side of this page!!
Welcome to the St Angela Hall Academy High Class Of 1963 web site. Add any additional home page content here.