St Angela Hall Academy


Class Of 1963
ANNOUNCEMENTS
Subject: The 4th of July. . .

Have you ever wondered what happened to the 56
men who signed the Declaration of Independence?
This is their story. . .
Five signers were captured by the British as traitors,
and tortured before they died.
Twelve had their homes ransacked and burned.
Two lost their sons serving in the Revolutionary Army;
another had two sons captured.
Nine of the 56 fought and died from wounds or
hardships of the Revolutionary War.
They signed and they pledged their lives, their fortunes,
and their sacred honor.
What kind of men were they?
Twenty-four were lawyers and jurists.
Eleven were merchants.
Nine were farmers and large plantation owners;
men of means, well educated.
But they signed the Declaration of Independence
knowing full well that the penalty would be death
if they were captured.
Carter Braxton of Virginia, a wealthy planter and
trader, saw his ships swept from the seas by the
British Navy. He sold his home and properties to
pay his debts, and died in rags.
Thomas McKeam was so hounded by the British
that he was forced to move his family almost constantly.
He served in the Congress without pay, and his family
was kept in hiding. His possessions were taken from
him, and poverty was his reward.
Vandals or soldiers looted the properties of Dillery,
Hall, Clymer, Walton , Gwinnett, Heyward, Ruttledge,
and Middleton.
At the battle of Yorktown, Thomas Nelson, Jr., noted that
the British General Cornwallis had taken over the Nelson
home for his headquarters. He quietly urged General
George Washington to open fire. The home was destroyed,
and Nelson died bankrupt.
Francis Lewis had his home and properties destroyed.
The enemy jailed his wife, and she died within a few months.
John Hart was driven from his wife's bedside as she was
dying. Their 13 children fled for their lives. His fields and
his gristmill were laid to waste. For more than a year he
lived in forests and caves, returning home to find his wife
dead and his children vanished.
So, take a few minutes while enjoying your 4th of July
holiday and silently thank these patriots. It's not much
to ask for the price they paid.
Remember: freedom is never free!
I hope you will show your support by sending this to
as many people as you can, please. It's time we get the
word out that patriotism is NOT a sin, and the Fourth
of July means more than beer, picnics, and baseball
games. True "reflection" is a part of this country's
greatness. Please be a participant.
"For God so loved the world that he gave
His only begotten Son, that whoever believes
in Him should not perish but have
everlasting life"
Thank you, Eileen !!
I'm proud to be an American...God bless the U.S.A.
Where at least I know I'm free...
Please answer the survey by clicking on the prompt on the left side of your screen called "DATES AND LODGING".
Happy Birthday
Marian
&
Bobbie
This is a short paragraph about a subject I tend not address if possible.
Anyone who has not yeat sent in at least $16 for the entire year of 2015, please consider doing so. Half of the year is gone already. I pay $16 monthly to maintain it and $20+ per year for the domain name.
Some of you have been very generous; some have paid ahead for a few years. Thank you for that. We use the money to help website members and their families &/or friends in need. we also use the funds to set aside amounts needed for the Reunion, mostly, initial costs or 'holds' on things.
Thanks for being such a good group.
Barbara
Reunion News
We have more venues than ever before to make comments about, against, concerning, questioning, answering news on the 2018 Reunion in NYC. They are: the "What's New" page, the "Homepage", the "Message Forum", "Contact Us", the Message Center", the "Post Announcement" page, Dates & Lodging, and for Administrators (committee heads, etc.) we also have the "Reunion Planner" & "Product Manager" pages. Everyone, start thinking of ideas, a theme for the reunion, possibly something unique to do (i.e. adding to or changing the format we had at our last reunion). All comments are welcome regardless of whether or not you are planning to attend.
Some have already said. "count me in", but soon we will post a questionaire in everyone's profile. When you update your profile, a question or two will be there for you to answer. Please look for it in a week or so. The question will remain there until you have time to answer it. You will be able to contact Jacqueline or me at all times for any reason.
Barbara
Check out the new "WHAT'S NEW??" page. Just click on it.
Keeping the Website Open
Well, it seems all of you have decided for me (by your support) that I should keep the website going. This was decided after our first reunion in 2013
Thank you,those of you who have already sent $16 dollars or more. For those of you who don't know, I've asked all of you who joined to donate at least $16 per year in or around January which I keep in a SAHA PayPal account to be used for reunions. The reason for that amount (I don't use it) is that I maintain the site by paying $16 per month to Class Creator (classcreator.com) who helped me establish it and still helps 24/7 if anything goes wrong.. I'll keep you posted as to how many have donated and what specifically every cent is used for (either through personal e-mail or posted in the message forum). The details of who donated and how much will only be shared with Administrators on a monthly basis.
Barbara
33172 people have visited our site thus far.
44.3% of our alumni have joined the website.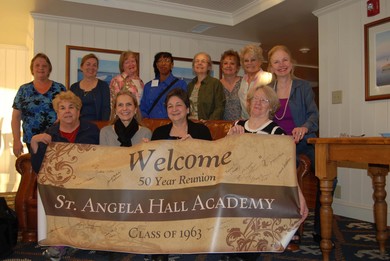 Thank you everyone for making the Reunion a happy
time for all of us. Thank you Judi for this photo.
Check out "Old Brooklyn" page & click on it on the left
side of this page!!
Welcome to the St Angela Hall Academy High Class Of 1963 web site. Add any additional home page content here.