St Angela Hall Academy


Class Of 1963
Welcome to the St Angela Hall Academy High Class Of 1963 web site.
ANNOUNCEMENTS
Hi Everyone,
Just want to let you know that our site is up and running (it was down for a few days).
Eileen
Quick Note
Reuniuon photos are being sorted and improved (as much as I am able). Will post in a few days. Hope everyone liked their calendars. For those of you who didn't attend, we'll try to show you what you missed. For those of us who did attend, try to write a paragraph or two about some item, event, sight, or even a thought you had during the reunion. Send it to me, or Jackie Rock, or Eileen Meeres (Dennedy), to review. We'ed like to post a few.
Thank you, Barbara
Today is June 22, 2018. Our 55yr Reunion will be held in 87 days (Sept. 17, 18, 19). Here are the things you all need to know:
1.Let me (Barbara Ecker,1811 Oaklawn Dr., Prescott AZ 86305,phone: 928.899.1366, e-mail: bjecker64@gmail.com), Jackie Rock, or Eileen (Dennedy) Meeres know if you are planning to attend
2. Call the Hampton Inn & Suites at 1120 South Ave., Staten Island, N.Y. 10314 at 718.477.1600 for reservations USING THE GROUP CODE "SAH" in order to get our rate of $139 + tax per night for all rooms
3. Send your registration fee of $75 per head to me or Jaqueline (Rock).What ammenities this includes are at the end.
4. Tues. Sept.18 at 7pm we have dinner set at Lorenzo's at the Hilton next door (general menu for us will be posted at the end as well).
REGISTRATION FEE INCLUDES: verified registration card back in the mail; Monday evening "Meet and Eat" affair for everyone after check-in. Includes Deli catered colds cuts plus complimentary soft drinks, beer, wine; free breakfasts included; includes free shuttle to & from Newark airport, and-to & from SI Ferry; includes free parking; free semi-private farewell breakfast on Thursday morning; table give-aways and trinkets.
Lorenzo's special menu:
Menu to be inserted within hours
Thought I would also show some photos, remembrances, highlights of the get together for both those who attended and for who did not, and those who have since joined our website.
We spent 3 days and 2 nights at the Hampton Inn Oceanfront in Myrtle Beach
Had a Wednesday night dinner at the Chestnut Inn On March 13, which, by the way, was the date Pope Francis was chosen.
Remembrances are good-- Let's have a trememdous 55 year reunion even better than the last.
Check out the new "WHAT'S NEW??" page. Just click on it.
68,028 people have visited our site thus far.
44.3% of our alumni have joined the website.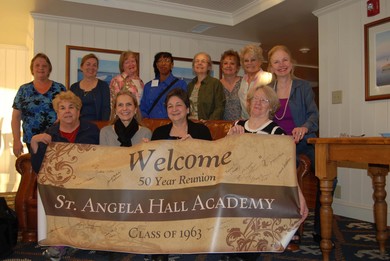 Thank you everyone for making the Reunion a happy
time for all of us. Thank you Judi for this photo.
Check out "Old Brooklyn" page & click on it on the left
side of this page!!